National Popcorn Day – January 19th
Activities to Celebrate!
popcorn Printable Worksheets
Popcorn Wordsearch Puzzle
Popcorn Coloring Pages – Printable
How Many Words Can you Make from Popcorn? – Printable Worksheet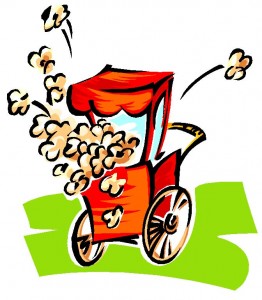 popcorn craft bags
Using plain lunch bags, decorate your popcorn bags with crayons, markers, stickers, etc. THEN, fill to the top with yummy popcorn!
Recommended Reading
The famous little mouse from the children's classic If You Give a Mouse a Cookie is back in another irresistible tale full of holiday antics. This time, if you take him to the movies, he'll ask you for some popcorn. If you give him the popcorn, he'll want to string it all together. Then he'll want to hang it on a Christmas tree.
A big pot, some heat, and lots of popcorn. . . . When the corn starts popping, the fun gets hopping for a boy, a girl, and their grown-up pals, who tend the stove. But when will the popping stop? Betsy Everitt's energetic illustrations add bold spice to this lighthearted rhyming recipe for a culinary adventure.
Popcorn, corn on the cob, cornbread, tacos, tamales, and tortillas. All of these and many other good things come from one amazing plant. Aliki tells the story of corn: How Native American farmers thousands of years ago found and nourished a wild grass plant and made it an important part of their lives. They learned the best ways to grow and store and use its fat yellow kernels. And then they shared this knowledge with the new settlers of America.
Maisie Ferris and her parents are interested in new ideas and the world beyond their small town of Galesburg, Illinois, even though their neighbors frown on anything too different. When a visiting journalist from England tells Maisie he has never heard of popcorn, Maisie and her father come up with the wild idea of growing popcorn and selling it overseas. Their plan is a success, and Maisie's dreams of selling popcorn in England and meeting Queen Victoria come true.
You could hardly blame Dexter, ordinarily a well-behaved young dragon, for showing off when he suddenly found that he could make clouds of smoke. The temptation is irresistible, but Dexter quickly becomes insufferable. First he watches his own reflection in the river in order to admire the smoke. Then he puffs it in the faces of his friends: the zebra, the giraffe, and the elephant. He even blows smoke rings around his own tail to prove how clever he is.
Soon Dexter has no friends left. He is a very lonely dragon indeed, until quite by accident he discovers a way his talent can be used to win back his playmates.
This wonderful story — first published in 1953 — will delight both young readers and their parents, and so will Lisa McCue's appealing new pictures of this lovable show-off.
A popcorn machine goes haywire in this rhyming, easy-to-read Level 3 book for beginning readers. A Hello Reader book. Full-color illustrations throughout.
"For this tree," said Mrs. Tinsley. "And for you." As Mickey and Gary strung popcorn, their mother told them about olden days and the decorations from her childhood. "There were balls of blown glass, real candles, an angel with wings of silver, and a small, fragile birds with tinsel tails. And jumping jacks on strings. I wonder if they could still be in the house where…" Her words floated over the children like dreams. Hundreds of miles away, down in the corner of a cellar, sat an old cardboard box. Something inside made a sigh, a silver sigh, almost to silver to notice.
Don't miss our new "Winter Printable Packet"

A Printable Packet
Psalm 74:17 It was you who set all the boundaries of the earth; you made both summer and winter.
available now!!!
Over 50 pages of printable winter activities
On sale through january $2.99
Our "All About Winter" printable packet is filled with winter resources.
Learn All About…
Hibernation – Where do animals sleep in the winter?

Hibernation Printable Activity with templates

The "letter W" printable activities

Winter vocabulary words with printable flash cards

Printable Bible verse memory cards

Winter word search, crossword puzzle, maze, coloring sheets

Temperature study with printable weather journal

Winter matching printable activity

Winter writing prompts

Snow day recipe fun