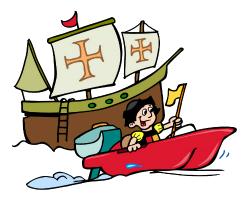 ALL PRINTABLE PACKETS ARE DELIVERED BY DOWNLOAD
IN .PDF FILE FORMAT.

All About Columbus day
A Printable Packet
"In fourteen hundred and ninety-two, Columbus sailed the ocean blue"
ON SALE!!!!!
$2.99 Now Only $1.99
Our "Columbus Day Packet" is brimming over with
printable fun, crafts, activities, Bible memory cards,
"Letter C" worksheets, recipes & so much more!
32 Page Packet
What's Included?
All about Christopher Columbus

Bible Memory Flash Cards

Handwriting Practice

Letter C Printable Activities

Columbus Day Flash Cards

Columbus Day Traceable Flash Cards

 Facts About Christopher Columbus

The 3 Ships Printable Activity

Christopher Columbus Day Coloring Sheets

Columbus Day Word Search

Columbus Day Crossword Puzzle

Parts of the Ship

Vocabulary Words

Craft Activity from Nestle – Ships

Edible Banana Boats

Spyglass Telescope

ON SALE!!!!!

$2.99 NOW ONLY $1.99
Sample Pages
ON SALE!!!!!
$2.99 NOW ONLY $1.99
Graphics purchased and supplied by: