Now Online!!!!
God's Autumn Artistry - Why Leaves Change Color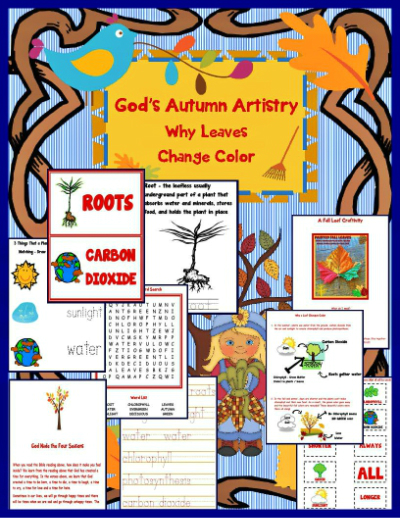 Ecclesiastes 3:1 "There is a time for everything, and a season for every activity under the heavens"

A Christian Printable Packet

God's Autumn Artistry" - "Why Leaves Change Color"

Celebrate the beauty of Fall and discover why leaves change colors. Our "God's Autumn Artistry" packet is a week long packet designed to educate your child about God's hand in our seasonal changes.

The packet includes:

Packet Includes:

Science - Why Do Leaves Change Colors
Printable Activity - Why Leaves Change Colors
Changing Leaves - Flash Cards
The Letter L - Formation Printable Sheet
Handwriting Sheets - Featuring Leaf Changing Words
Letter L Handwriting Sheets
Changing Leaf Vocabulary Words
Changing Leaf Matching Activity
A Leaf Craftivity
Changing Leaves Word Search
"God Created the Four Seasons" Bible Study
Bible Memory Verse - Handwriting
& More!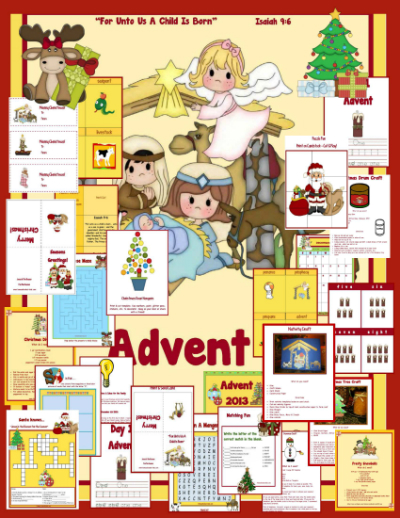 "Advent 2014 For Kids Printable Packet"

135 Pages of Advent Printable Crafts, Activites, Ideas & More!

Available Now!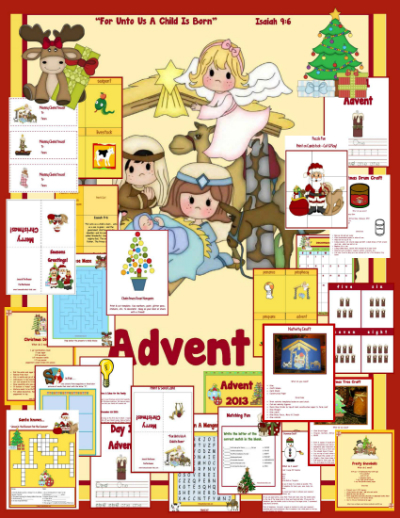 Advent 2014 for Kids - A Printable Packet

Jesus is the Reason for the Season!!!!
v "For to us a child is born, to us a son is given, and the government will be on his shoulders. And he will be called Wonderful Counselor, Mighty God, Everlasting Father, Prince of Peace. Of the greatness of his government and peace there will be no end. He will reign on David's throne and over his kingdom, establishing and upholding it with justice and righteousness from that time on and forever." Isaiah 9: 6, 7

What is Advent?

The word Advent comes from the Latin word, adventus which means "coming". As Christians, we celebrate the coming of Jesus when he was born in the manger many years ago. Advent is a season of waiting and preparing for Christmas. Advent begins on the fourth Sunday before Christmas.

Advent - 25 Days of Christmas FUN for kids and families! All packets contain Christmas crafts, activities, Bible verses, recipes and so much more.

Add the tradition of celebrating Advent to your holiday season and create a magical holiday that your family will treasure forever

Our "Advent 2014 For Kids Packet" is FILLED with ideas and activities to help you create a magical Advent season for your family

Each day of Advent will be celebrated with a daily Bible reading that will help keep your family's focus on the real meaning of Christmas. You will also find a daily recipe, printable activity, coloring page, craft idea, vocabulary words, printable Bible verse cards and more!

Each day we will also offer an "Idea of the Day" to help you and your family create special memories that can become traditions for years to come.

What's Included?

Advent for Kids - Lesson Plan/Teacher's Manual
Instructions on creating an Advent wreath
Daily Bible reading with application
"Idea of the Day" Creative ideas for each day of Advent
Daily Christmas Carol - With Lyrics
Daily Advent Recipe for Kids
Daily Advent Craftivity for Kids
Advent Prayer Chain - with template and instructions
Advent Coloring Fun for Kids
Daily Advent Printable Activities - Mazes, Word Searches, Crossword
Daily Advent Handwriting Practice
Advent Vocabulary Words with Flash Cards
Advent Vocabulary Handwriting Practice
Advent Bible Memory Verses with Flash Cards
Advent Math with Printable Activities
Advent Math with Flash Cards
& SO MUCH MORE!

(c) Homeschooled Kids Online - Advent Celebration 2014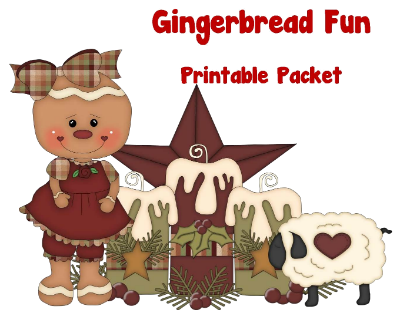 "Gingerbread Fun Printable Pack"

Over 40 Pages of Printable Crafts Activites, Ideas & More!

Available Now!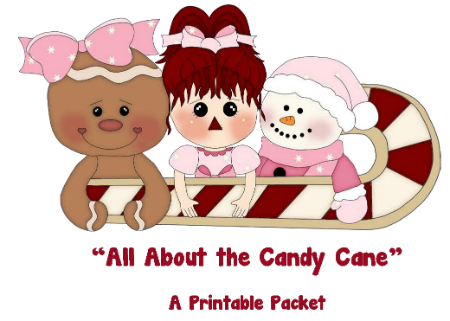 "Candy Cane Printable Packet"

Our "Candy Cane Packet" is brimming over with printable fun, crafts, activities,
Bible memory cards, "The Legend of the Candy Cane" printable booklet",
"Letter C" worksheets, recipes & so much more!

Available Now!




Celebrate Winter Giveaway!
Win a $20 Gift Certificate to Amazon.Com!
It is EASY and FREE to enter!
Visit our Contests for Kids page to enter!

Online Bible study for kids
Join Today! check it out!

Advent 2014 for Kids
Daily Bible readings, craft, activity and recipe suggestions to enhance your holiday season!

Keep Christ in Christmas!
Share Our Site!

Subscribe To Our FREE Newsletter

Advent For the Family

Are you looking for a new tradition for your family - one that
will remind everyone of the true meaning of the season?
Celebrate the four weeks of advent together as a family and create memories that will last a lifetime. Christmas can be a time of chaos if we aren't careful. Dedicate time daily during these 4 weeks to spend time together as a family and focusing on the birth of Jesus.


| | | | |
| --- | --- | --- | --- |
| | | How to get started.... | |

Start your family Advent celebration the 4th Sunday before Christmas. This year,
Christmas 2014, Advent begins on Sunday, November 30th.

Buy or make a simple Advent wreath with 3 purple candles, 1 pink candle and 1 white candle. You can make your celebration as simple or elaborate as you desire. Using our calendar below, follow the daily activity guide. Each day of advent we will present you with a reading from the Bible, and a craft, game or snack suggestion. Feel free to complete as much or as little as your time allows.

Some of the crafts are elaborate and some are very simple. Look ahead and view the various craft suggestions. Feel free to modify to fit your schedule.

The snack and recipe ideas are to enhance your advent evenings. Do not feel compelled to make every snack or use every recipe. The recipe ideas are just something extra and add them when you have time. Once again, look ahead and view the recipe suggestions and modify to fit your schedule.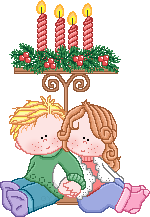 Advent Calendar For Families


Advent Calendar Christmas 2014
Your Advent Celebration begins here with the daily calendar. Bookmark this page and each day click on the day to discover your daily Advent readings, activities, craft and recipe suggestions.
| | | | | | | |
| --- | --- | --- | --- | --- | --- | --- |
| Sunday | Monday | Tuesday | Wednesday | Thursday | Friday | Saturday |
2
Is. 40:1-5
3
Is. 52:7-10
4
Is. 40:9-11
5
Gen. 3:8-15
6
Gen. 15:1-6
7
Deut. 18:15-19
8
Ps. 89:1-4
9
Is. 11:1-10
10
Zech. 6:12-13
11
Mic. 5:2-4
12
Mal. 3:1-6
13
John 1:1-8
14
John 1:9-18
15
Mark 1:1-3
16
Luke 1:5-17
17
Luke 1:18-45
18
Luke 1:46-66
19
Luke 1:67-80
20
Is. 7:10-14
21
Luke 1:26-35
22
Is 9:2-7
23
Matt 1:18-25
24
John 3:16-21
25
Phil. 4:4-9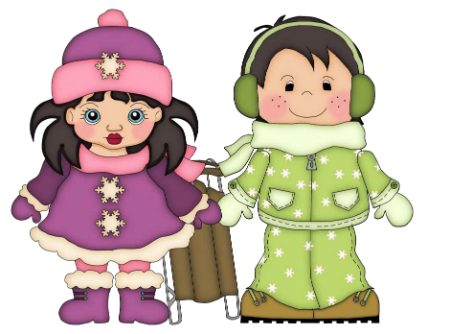 "Winter Printable Packet"

Over 50 Pages of Printable Crafts, Activites, Ideas & More!

Our "All About Winter" printable packet is filled with winter resources.
Learn All About Hibernation - Where do animals sleep in the winter?
Hibernation Printable Activity with templates
The "Letter W" printable activities
Winter vocabulary words with printable flash cards
Printable Bible verse memory cards
Winter word search, crossword puzzle, maze, coloring sheets
Temperature study with printable weather journal
Winter matching printable activity
Winter writing prompts
Snow day recipe fun
& MORE!!!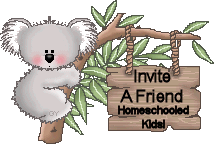 Feeling lost? Be sure and stop by the visitors center and check out the Directory for a listing of EVERYTHING that's available at the "All About Jesus" Christmas Celebration!
You don't want to miss a thing :)