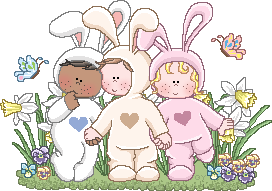 Easter Craft Ideas For Kids

Easter Crafts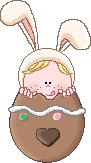 Colored Eggs - Using Sponge Painting
Supplies: Hard boiled eggs, craft paints - acrylic craft, sponge - small in shape and 1 for each color paint, paper towels for blotting, egg carton for holding eggs, paper plates

Instructions: Put a small amount of paint on a paper plate.
Dip your sponge into the paint and blot with a paper towel.
Paint your eggs with sponge.
After painting your egg, place in an upside down egg carton for drying. EASY!
You can also use 2 different colors on an egg for an extra special effect.
Simply paint your egg with a dark color and then after drying...apply a lighter color on top with a sponge.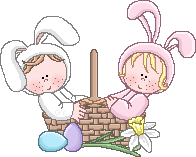 Wash Cloth Bunny
Supplies: washcloth (pretty pastel solid color), rubber band, ribbon (match to washcloth), small red pompom, slightly larger white pompom, glue, wiggly craft eyes

Instructions: Fold washcloth in half forming a triangle
From the point, roll the washcloth towards the wide end of the cloth
Bring the ends of the washcloth together.
Place the rubber band around the cloth - forming a head/body. (around 3/4 inches from the fold
Hide the rubberband with the colored ribbon.
Glue on wiggly eyes and red nose.
Glue on white pompom for tail.
Fluff up your bunny and shape the ears! EASY!!!!

Hershey's Flowerpot Bouquet


Materials:
Small flower pot
6" lengths of 12 gauge floral wire
Silk flower leaves
Green floral tape
Clear cellophane
Glue
Scissors
1 yard of ribbon or pre-made bow
JOLLY RANCHER Jelly Beans
Assortment of HERSHEY'S pastel foil wrapped candy such as HERSHEY'S KISSES Brand Milk Chocolates, ROLO Caramels in Milk Chocolate, REESE'S Peanut Butter Cup Miniatures, and YORK Peppermint Patties

Directions:

To Create HERSHEY'S KISSES Brand Milk Chocolates Roses:
For each candy rose, spread glue on the bottom of one foil-wrapped chocolate. Firmly press the bottom of another chocolate to it. Insert florist wire into one pointed end of the double chocolates, twisting cellophane, continuing down the full length of wire with tape. Add 1 or 2 artificial leaves, if desired, securing leaves in place with florist tape.

To Create ROLO Caramels in Milk Chocolate Blue Bells: Insert one length of floral wire through the center of 3-4 blue foil chocolate to form blossoms. Wrap remaining lengths of wire with green floral tape, inserting silk leaves at the base of the chocolate.

To Create All Other Candy Blossoms:
Insert one length of floral wire partially through the center of a YORK Peppermint Pattie or a REESE'S Peanut Butter Cup Miniature. Wrap candy with a 4" square of clear cellophane, twisting the remainder of clear wrap around the top of the floral wire. Wrap wire beginning at the base of the candy, over the extra clear wrap, inserting silk leaves.
Completed craft is for decorative purposes only. Candy used in craft should not be eaten.
Hershey's Crafts Online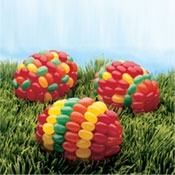 Jelly Bean Eggs
Materials:

Plastic Easter eggs
JOLLY RANCHER Jelly Beans
Glue stick or low temp hot glue gun

Directions:

Create a mosaic pattern by gluing jelly beans to plastic eggs. Begin your pattern around the center of the egg and work one row at a time, completing one circle at a time.

Arrange in a basket to create an exciting table centerpiece or enclose a special prize and hide for your Easter egg hunt!

Completed craft is for decorative purposes only. Candy used in craft should not be eaten.

Hershey's Crafts Online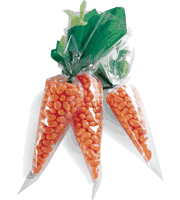 Jelly Bean Carrots
Materials:

Materials

Disposable clear plastic icing bags (available where cake-decorating supplies are sold; about $4 for a dozen bags)
Orange jelly beans
Scissors
Green tissue paper
Twist ties

Directions:

Fill an icing bag with orange jelly beans, leaving at least 3 inches unfilled at the top.

Cut out two 8-inch squares of green tissue paper and lay one atop the other. Pick up the squares from the center and give them a little twist so you have a cone-shaped carrot top.

Place the tissue, twisted end down, into the bag. Gather the bag at the top of the jelly beans and secure with a twist tie.

From Family Fun

Edible Jelly Bean Nests
Materials:

Ingredients

2 cups mini marshmallows
1/4 cup butter or margarine
1 (6-ounce) package (4 cups) chow mein noodles
Jelly beans
Directions:

Over low heat, mix together marshmallows and butter. Stir until melted.

Stir in noodles until well coated.

Press mixture innto buttered muffin pans up and down sides.

Refrigerated until firm and then fill with jelly beans.

Enjoy!

Jelly Bean Prayer Craft
Red is for the blood he gave.
Green is for the grass he made.
Yellow is for the sun so bright.
Orange is for the edge of night.
Black is for the sins we made.
White is for the grace he gave.
Purple is for his hour of sorrow.
Pink is for our new tomorrow.


A bag full of jelly beans
Colorful and sweet,
Is a prayer, Is a promise,
Is A Special Treat

Materials:

Copy & print the Jelly Bean Prayer Poem on white paper(copyright - Charlene Dickerson)
Construction paper, all the colors in the poem
Glue

Directions:

Cut a cross shape with the blue construction paper.

Glue printed poem on top of cross.

Cut out jelly bean shapes in all the colors of the poem.

Place jelly beans in a decorative fashion around the cross.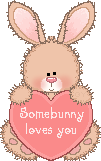 Bunny Headband
Materials:

construction paper, gray and pink glue or stapler

Directions:

Cut a piece of construction paper long enough to fit around your child's head.
Glue or staple the paper together to create a headband that fits nicely.
Cut 2 bunny ear shapes out of the gray paper. Cut out the inner ear from the pink construction paper.
Glue the pink inner ear inside the gray.
Glue or staple the ears to the headband. EASY!



Clothespin Bunny
Materials:

Wooden Clothes Pins
Child safe paint - white or pink
Small Craft Googly Eyes
Glue

Directions:

Paint the clothes pins.
When dry, glue the eyes to the pins.
The pin should be upside down to create "ears."